Information Gathering and Research
JORSA gathers information and compiles materials on overseas railways, to be used by Japan's railway industry when promoting overseas projects. We also assemble and organize statistical information, and provide a wide range of valuable information to members and relevant organizations.
International Railway Market Handbooks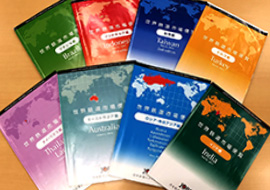 JORSA gathers the latest information on the world's railway markets and compiles it into breakdowns by country, publishing it to show railway profiles, railway operator organizational structure, business income and expenditure, transportation volume, route maps, rolling stock held, etc. JORSA has printed handbooks covering 26 countries.
Statistical Information
JORSA prepares statistical material covering Japan and other countries, in formats that are easy-to-use and designed for specific purposes. The statistics are published in Tetsudo System Yushutsu Kumiai-ho (JORSA Report). We currently publish four categories of statistical information: United Nations trade statistics, customs clearance statistics, signed export contract statistics, and production statistics.