Trade Insurance
Trade insurance guards against risks associated with a company's exports and imports, its overseas investments and its overseas transactions (such as overseas financing arrangements). The role of trade insurance is to alleviate the various risks that are inherent in foreign transactions but cannot be covered by ordinary marine insurance or the like. Those risks include extraordinary risks such as inordinate regulations on foreign currency transfers, war and civil disorder, and credit risks such as an export buyer failing to make a payment.
Japan's trade insurance system was established by the government in 1950 and given the aim of supporting the overseas transactions of Japanese enterprises. For about half a century the system contributed greatly to the expansion of Japanese corporate exports and their operations in other countries. However, due to changing international financial circumstances and diverging Japanese corporate needs, an incorporated administrative agency called Nippon Export and Investment Insurance [NEXI] took over the operations of Japan's trade insurance system in April 2001, to provide effective administrative services that take those changes into account.
NEXI transformed from an incorporated administrative agency to special stock company wholly owned by the government on April 2017. The transformation has been made with the aim to enhance NEXI's functions to support Japanese exports and overseas businesses more efficiently and effectively in line with the government policy.
This chart illustrates types of comprehensive insurance under general trade insurance.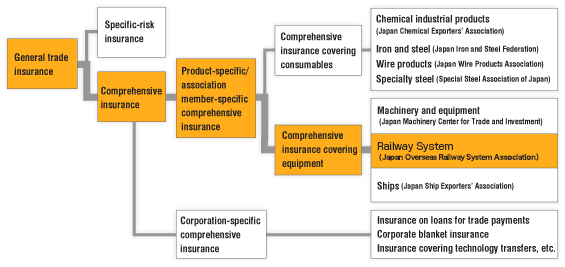 Japan Overseas Railway System Association (JORSA) processes applications for general trade insurance and product-specific/association member-specific comprehensive insurance. Under an arrangement whereby JORSA and NEXI sign a special comprehensive insurance agreement with a specified validity period, JORSA receives authorization from a member regarding insurance for all of its railway-related freight export contracts valued at a minimum of 10 million yen. Then JORSA applies to NEXI for insurance for that member, and signs the insurance contract.
In the case of comprehensive insurance for rolling stock exports under the general trade insurance category, when an export contract and an agent-facilitated trade contract (limited to contracts that include freight exports covered by comprehensive insurance) are signed, NEXI insures against the loss of a Japanese company after one of the following risks is actualized by an act of god and is therefore not attributable to either of the contracting parties:
(1) The inability to export freight to the destined country
(2) The inability to collect payment for the goods shipped, and/or payment for services,
and also insures against the loss of a Japanese company after one of the following risks is actualized due to a cause for which the contracting party in Japan is not responsible:
(3) The bankruptcy of the other contracting party (or a situation equivalent to a bankruptcy)
(4) The non-payment by the other contracting party (the payer) of charges for the goods shipped, and/or payment for services.
Under the comprehensive insurance system, a JORSA member desiring trade insurance applies for total insurance, such as under a special agreement for comprehensive insurance, and the risk is dispersed through insurance at a premium that is much lower than specific-risk insurance.
In order to support the railway project exports of Japanese corporations, JORSA will continue to collaborate with NEXI in offering beneficial services, providing our corporate members with trade insurance that helps them avoid the above risks at a low premium.