Public Relations Activities
Overseas Exhibits
JORSA participates in important railway-related exhibitions overseas about three or four times a year, to introduce Japan's rail advanced transport technology.
Three major events we participate in are:
InnoTrans, where participants in the world's rail transport industry meet every two years in one location.
UITP exhibitions for urban transit sector participants at conferences of the International Association of Public Transport (UITP). (Held every two years)
UIC High-Speed exhibits for high-speed rail sector participants at World Congresses of the International Union of Railways (UIC). (Held every two years)
InnoTrans has continued to organize exhibitions since its first one in 1996. The last one, held in 2010, attracted 13 times more exhibitors than that first one. JORSA has been a regular exhibitor since 2002, and like the exhibition itself, there has been continual growth in JORSA's participation, in terms of the space occupied and the number of JORSA members and Japanese enterprises mounting joint exhibits. By showcasing the outstanding characteristics of Japan's railway technology to the world's rail transport sector, the technology has earned high praise from the railway industry. Future exhibits will surely raise the technology's profile even higher.
JORSA also presents exhibits in a strategic fashion to boost Japan's presence in important, attention-getting markets, especially where high-speed rail projects and urban transit projects are planned. For example, since 1996 we have mounted exhibits at Modern Railways exhibitions organized by China's Ministry of Railways, and at a recent Business on Rails Fair in Brazil (a country with much latent need for the development of both high-speed rail and urban transit projects).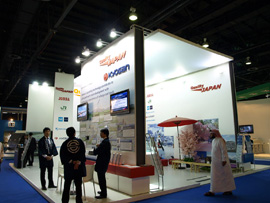 Over the last few years, the pattern JORSA has generally followed at these types of exhibitions has been to set up a "Japan" booth, and for JORSA member corporations to present joint exhibits within the JORSA section of the booth. At some exhibitions, JORSA also collaborates with Japanese railway operators and Japan External Trade Organization (JETRO). In the future, we intend to also set up small information booths in new and promising markets to provide information on Japan and boost awareness of Japan's railway systems.